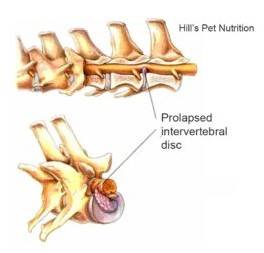 Every pet (and person's) spine consists of many bones (vertebrae), each separated by a layer of cartilage (discs) to provide cushioning and allow flexibility.
Back pain often involves irritation or damage to those discs. One severe cause of back pain is Intervertebral disc disease (IVDD). IVDD occurs when the disc pops up out of the joint space, pushing on the spinal cord, resulting in strong pain and potentially affecting feeling in the body and legs.
Diagnosis of back problems is often made using a combination of physical examination by your veterinarian and diagnostic imaging such as x-ray, CT scan or MRI.